Welcome to the mobile GetLymphed and Body in Alignment center. We will travel anywhere within a 20 mile radius from Hawaii Kai. For those of you who live outside that range or don't want strangers in your home, we welcome you to come to us.
Call or email us for the address.
Hours :
By appointment only...closed on Sundays.
Payments :
Cash, check ($10 fee for returned checks), credit cards (3.3% transaction fee)
Gift Certificates :
Available in any amount you would like.
Please call or email us with the following information: Your name (first and last), Recipient's name (first and last), Amount (if you need to figure out what your amount buys, check out the Services we Offer page), Note section (anything you would like to tell them).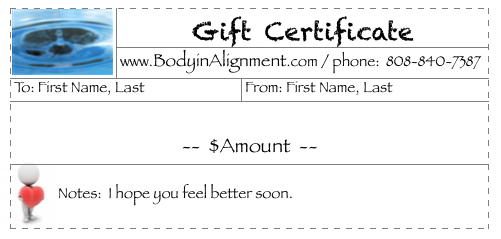 © Copyright 2017 GetLymphed and Body in Alignment | 808-840-7387. All rights reserved.